Why should I install PPF on my car?
A: A car is one of the most expensive investments you will make. Due to its toughness and durability, PPF creates a barrier and protects the vulnerable areas e.g. front bumpers, side mirrors, door cups and edges without changing the design features or colour. It will also help preserve your vehicle's showroom shine and improve its resale value.
How is PPF installed?
A: The highest quality of automobile protection begins with seamless installation. Hyper Defender uses a plotter to cut patterns to the individual car. This enables us to offer our customers the most customizable and precise coverage in Singapore. It also helps reduce any damage to the paintwork eliminating the need to trace over the areas with a pen knife.
The vehicle is prepped before PPF is adhered onto the car body and installed using an alcohol based solution.
Where can I put PPF?
A: PPF can be professionally installed on both the exterior and interior surfaces of your car. Most of the time, we recommend PPF application on areas of your car that are most susceptible to damage (see below).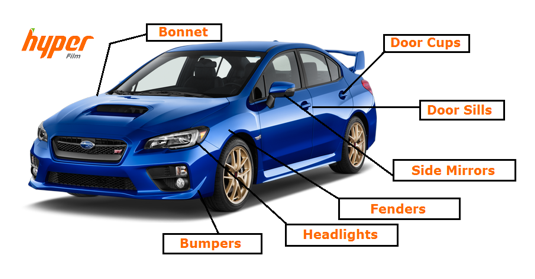 Can I cover the whole vehicle with PPF?
A: While it is possible on most vehicles, a full-car PPF installation would be time-consuming, difficult and very expensive. PPF is specially created to protect the most vulnerable areas of the vehicle. Most of the time, car owners will specify PPF installation on areas such as the bumper, headlights, side mirrors and door cups, which undergo a lot of wear and tear.
What should I consider when installing PPF on repainted surfaces?
A: Installing PPF on repainted surfaces can be tricky as it is not as durable as a factory finish. We highly recommend that any repainted surfaces on your car be professionally painted and completely cured prior to PPF installation.
In the event PPF is applied over an area that you have personally touched up with "touch-up" paint, the film will protect the painted area until it is removed. In some cases, the touch-up paint may peel off with the PPF when it is removed.
What is the warranty on Hyper Defender's PPFs?
A: Hyper Defender offers a 2-Year Limited Warranty from the date of installation.
This includes coverage against workmanship defects, yellowing, bubbling and cracking. Do note that the warranty is valid only if the film is installed by a Hyper Defender Certified Installer.
Can I install PPF myself?
A: We strongly recommend that PPF be installed by a Hyper Defender Certified Installer as they have been professionally trained and possess the required experience to ensure you receive an installation that is fit precisely to your car.
In addition, the warranty is valid only if the film is installed by a Hyper Defender Certified Installer.
Can PPF be applied over vinyl graphics?
A: In general, vinyl graphics can be covered without any issues. Only in some isolated cases will the underlying vinyl graphics be damaged during the removal process.
One other thing to consider is that the film may not fully adhere to the outer edge of the graphic. This may leave a small air gap about 1mm or less, depending on thickness of the vinyl graphic.
How do I care for my Paint Protection Film?
Dos
DO wait approximately 5 days after PPF installation before washing or waxing your vehicle to help ensure that the film is properly adhered to the car body.
DO wash and wax your car to retain its best possible aesthetic appearance.
DO remove any wax build-up along film edges with a lint-free cloth after waxing.
Don'ts
DO NOT use dyed waxes, abrasive polishes and/or rubbing compounds.
10. How long does it take to install PPF on my car?
A: The time taken for PPF to be installed on a car depends on the vehicle, colour and the number and size of areas to be covered.
Feel free to contact us at 6468 6692 or DM us on Facebook (@Hyper21Singapore) for any enquiries regarding PPF installation.
Alternatively, you can drop by our showroom at 913 Bukit Timah Road, #01-02, Singapore 589623 for a one-to-one consultation with our Sales Execu